We ship overnight using
FedEx®, UPS®, or DHL® !

Fresh Fish isn't fresh if it sits in a truck for 2 days.

It costs a little more,
but we are
AlwaysFreshFish.com!

AlwaysFreshFish.com
Uses Comodo®



SSL (Secure Socket Layers) encryption technology to ensure a safe, secure transaction.

You can shop with
confidence and security online at AlwaysFreshFish.com!

AlwaysFreshFish.com
Our Privacy Commitment
AlwaysFreshFish.com
will never share, sell, or distribute any personal information from our customers!
"Fresh Red Snapper"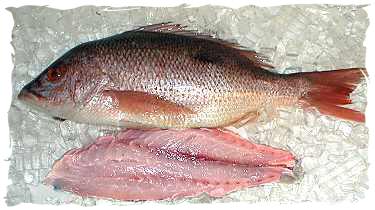 Fresh Red Snapper
Scientific name:
Lutjanus campechanus
Market name:
Snapper
Common names:
American red snapper, Red snapper, Caribbean red snapper, Mexican snapper
At AlwaysFreshFish.com we purchase our Red Snapper through our worldly contacts. Red Snapper, being a warm water fish can be caught throughout most of the world's warmer open seas. Our imported fish is flown into local airports where our refrigerated trucks pick up the fresh fish.
AlwaysFreshFish.com prides itself in purchasing as much domestic Red Snapper as is available through the Southern Atlantic and Gulf States. Fresh Red Snapper is a very popular fish among chefs and is highly sought after. It has a medium firm meat that is sweet and mild.
Fresh Red Snapper is generally sold in several forms: Fillets, Whole and Headed and Gutted. Unless otherwise requested we will be offering skinless fillets of Red Snapper.
Fresh Red Snapper
$14.49 per pound
Your Red Snapper fillets will average between 10-20 ounces.





5 lb. minimum order size per delivery
1 lb. Fresh Red Snapper
+
4 lbs. Add. Selections
=
5 lb. Total Order
OK!
An AlwaysFreshFish.com preferred recipe for:
Pan Seared Red Snapper
Ingredients:
2 lbs. Red Snapper Fillets
2 tbs. Rice Wine Vinegar
1 tbs. Olive Oil
juice from 1 Lemon
1 tbs. Honey
1 tsp. ground Ginger
1/4 cup chopped Scallions
1 tsp. dijon Mustard
Rinse Red Snapper fillets under cold water and let drain.
In a small bowl, combine Rice Wine Vinegar, Olive Oil, Lemon Juice,
Scallions, Honey, ground Ginger, and Dijon Mustard.
Mix until smooth.

Dip fillets in mixture, coating evenly. Place fillets into
preheated skillet and cook 2-3 minutes on each side
on medium heat. Add remaining sauce, lower heat and
simmer an additional 3 minutes or until fish flakes
easily with a fork.

Serves 4

Recipe courtesy of:
Bob and Joes Smart Seafood Guide
A Practical Look at Seafood


Nutritional data for Fresh Red Snapper

100 g edible weight:
Calories...................110.0 kcal
Protein....................20.2 g
Total lipid (fat)........2.6 g
Omega-3.................0.6 g




Recommended Cooking Methods
Broil

Fry

Sautee

Poach

Bake

Steam

Blacken

Microwave

For additional information on Fresh Red Snapper, please e-mail AlwaysFreshFish.com.
Shipping Information
Fish and Seafood require expert handling to maintain the freshness of the product. We use Federal Express® or UPS® as our primary shipping company as their quality and experience are second to none.
All orders are shipped SIGNATURE RELEASE - NO SIGNATURE REQUIRED.
This means that if no one is there to receive the order from FedEx® or UPS®, the driver will leave the order at the door. This signifies acceptance of the order (the same as a signature). You will be responsible for payment of the order. We highly recommend that someone is there within the designated timeframe to accept delivery of the order and promptly refrigerate it. We recommend the use of the FedEx® or UPS® tracking number (we will e-mail you the tracking number when the order is shipped), to monitor the delivery of your order.
If this is a gift, please be sure to alert the recipient that something perishable is coming via FedEx® or UPS® and to try and make arrangements to accept delivery and immediately refrigerate it upon receipt!

Receiving your delivery fresh and delicious is our priority!
We must therefore follow a schedule which will insure that your order is received in a timely manner and in excellent condition.
For any special needs or requests please feel free to contact us.
Delivery Schedule:
Orders placed on:

Friday, Saturday, and Sunday will be delivered by 7 p.m. EDT on Tuesday
Monday (before 10 a.m. EDT) will be delivered by 7 p.m. on Tuesday
Tuesday (before 10 a.m. EDT) will be delivered by 7 p.m. on Wednesday
Wednesday (before 10 a.m. EDT) will be delivered by 7 p.m. on Thursdays
Thursday (before 10 a.m. EDT) will be delivered by 7 p.m. on Friday*
---
Please note that AlwaysFreshFish.com will not be liable for reimbursement
on late arrival of delivery due to shipping delays.
FedEx® and UPS® try their best to deliver every package on time.
Unforeseen factors (ie. extreme weather conditions) may affect delivery times.
---
AlwaysFreshFish.com ®
A Division of Ron Smith Seafood Inc.
All Rights Reserved ©
To make your AlwaysFreshFish.com
ordering more convenient we accept
American Express, Visa, and MasterCard
as well as money orders.